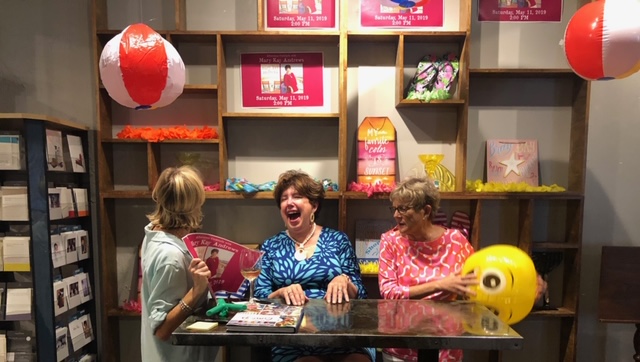 There's a story here.
To say we've been open since 1968 isn't enough. We have to give that time, dimension. Otherwise, we just come off sounding, well, old. We are seasoned and proud of it but our thinking has to be new. Hell, we've been through more hurricanes than Pat O'Brien's on a Saturday, and we're still here. Still standing.
Our strength comes from a center that the big box boys just don't have. What is it? We have a story…
A story with a whole cast of characters. Millions are in the books we sell, but look more closely. You'll find them in our aisles, behind the register and camped out in the café. You see, there's no need to create some mystique when you've been around this long. It's here.
Page and Palette. There's a story here.
Author of the Month: Dorothea Benton Frank
( 1951 - 2019 ) American Novelist
While her children were young Ms. Frank became a volunteer fundraiser, organizing events for various non-profit organizations around the Metropolitan New York area. Past board service includes The Montclair Art Museum, Whole Theater Company, The Drumthwacket Foundation, The NJ State Council on the Arts and The NJ Cultural Trust. She has also served on the Board of Trustees of the SC Coastal Conservation League and the Parent's Council of the College of Charleston, Bloomfield College (Bloomfield NJ), The Montclair Film Festival (NJ) and The SC Historical Society.
She is the recipient of an Honorary Doctorate of Humane Letters from The College of Charleston, a Doctorate of Fine Arts from Bloomfield College and an Honorary Doctorate of Humane Letters from the Charleston School of Law. In 2015, she was inducted into the South Carolina Academy of authors and has been honored many times for her work raising awareness about domestic violence and for her community service.
For every $100 you spend, here's how much stays in our community.